Mexico City, Day 12 - Thursday
A single car accident outside my apartment, String Cheese, Wind-up Cars, and long lines at restaurants. CDMX has it all.
Well, I did not sleep very well last night because there was a one car accident outside my window at 2AM.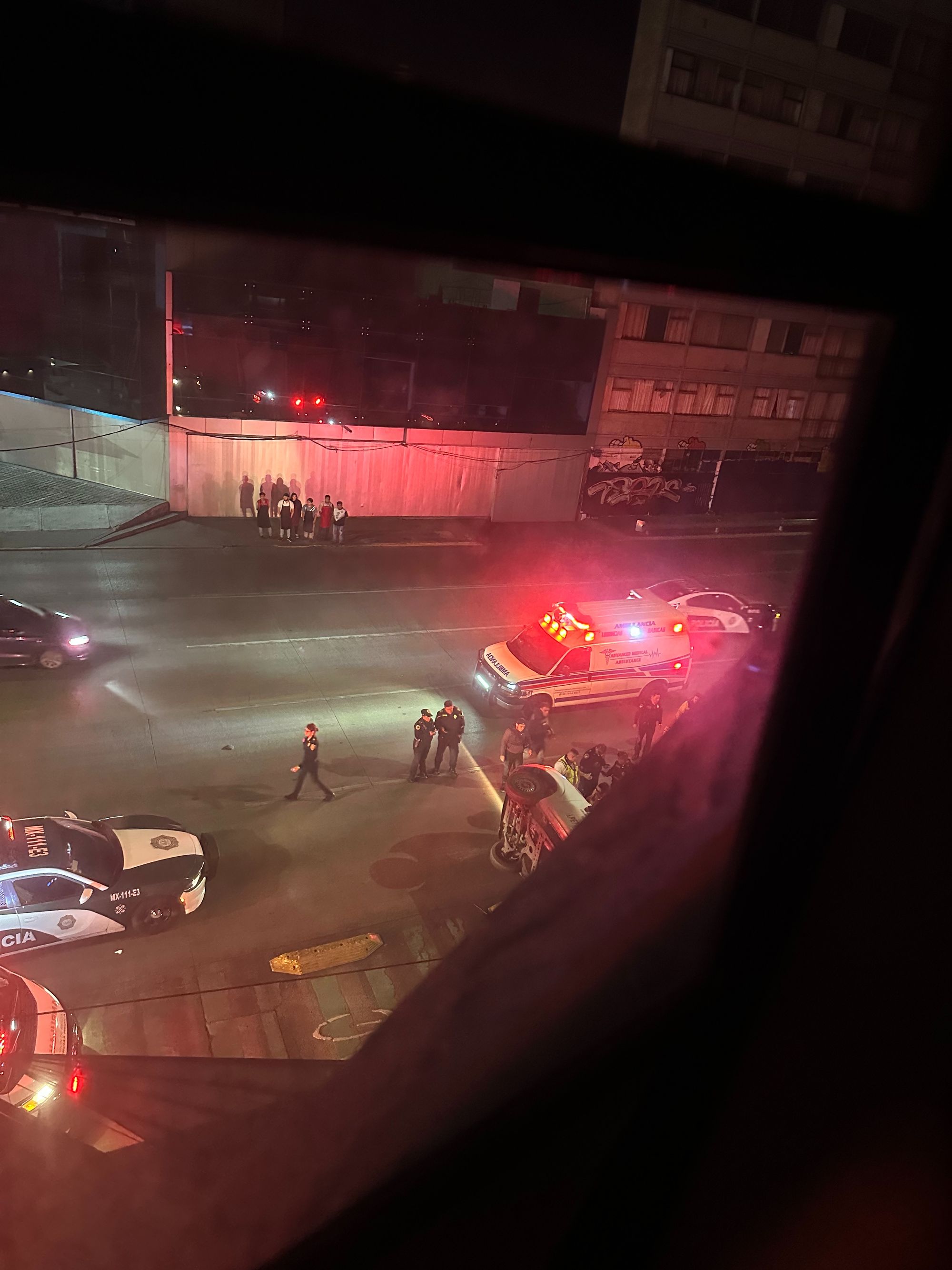 I don't know what happened. When I first looked out my window I could 't see anything.  Then I heard the sirens and saw the lights.  I got out of bed and then I could see that a truck had somehow flipped on its side.
I asked Marcela about it in the morning, and she hadn't heard a thing.  Wow, her room must be soundproof.  Or she has the best ear plugs ever.
Class got moved from 10am - 2pm to 1pm to 5pm.
I decided to try and ride to the other school I was thinking of going to.  My first attempt was a bust.  Google took me to the wrong place.  So, I headed back to school.  Then after class, I figured I would try again. I just wanted to check and make sure I was in the right school.
After hunting around a second time, I was convinced I was in the right school.  I found the address on a VERY busy street full of American franchise brands and heavy traffic.  It was not at all as charming, or as pleasant from the outside as International House.
I spoke to my teacher about why she liked teaching Spanish and she said it is a challenge to teach classes in Mexico City because there are not many tourists who want to learn Spanish here. But the clients she gets are always interesting and she loves teaching.  Most tourists come to CDMX because it's cheaper than Europe but has a similar vibe, and you really only need English.  However, it is the other clients at this school that have convinced me I made the right choice. There are two people who work at Embassies, and the last student for Lizeth was one of the first employees of AirBnB.   Plus the people I have met on excursions have been great.
A Long Line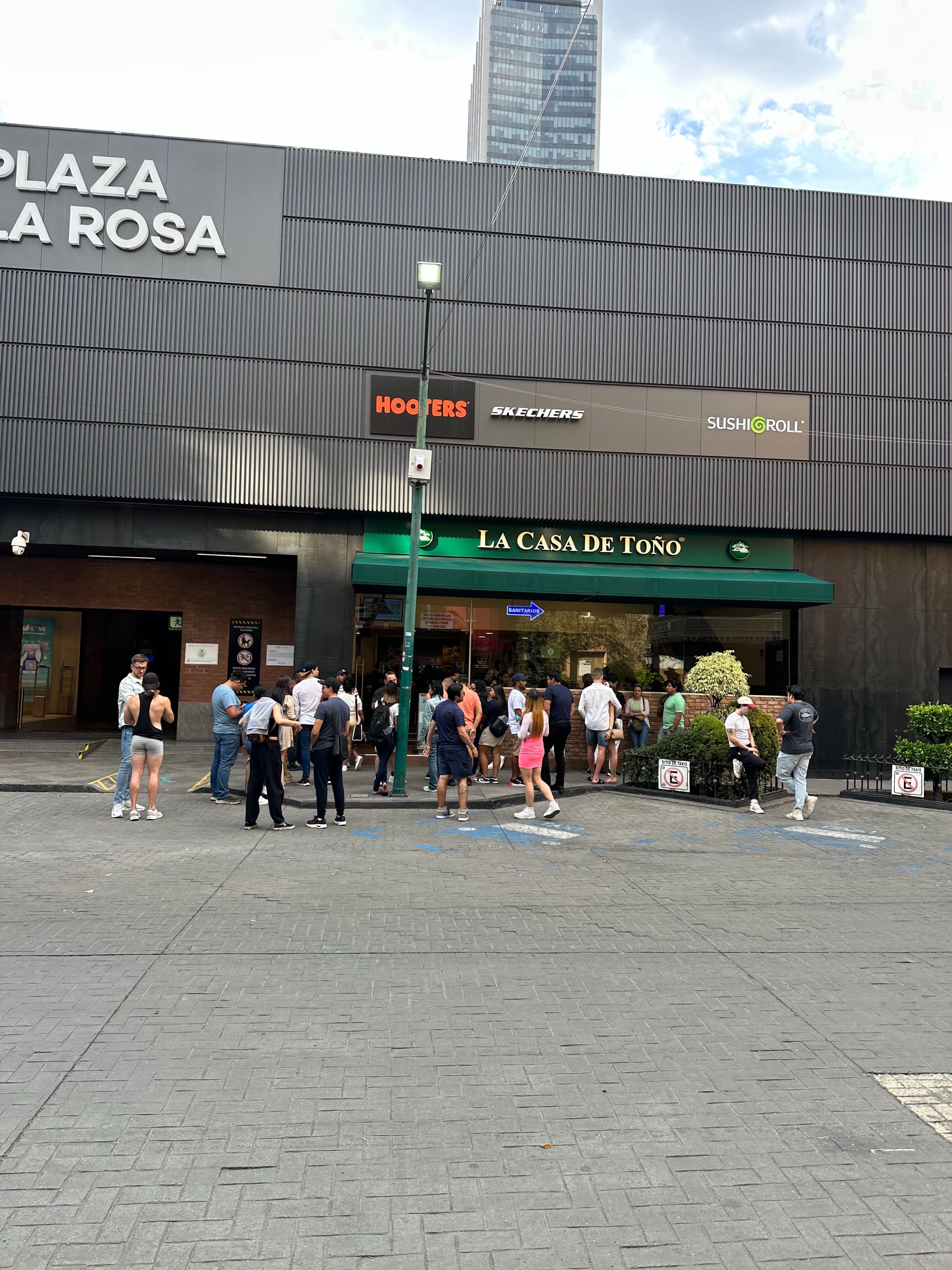 I decided to try and find the restaurant that Grettel recommended, La Casa De Toño but it was packed, and I found it a little awkward to stand in line with my Brompton.
I did manage to get a Metro Card - and then I rode home.  On the way back I stopped and took some pictures of this cool car someone setuset up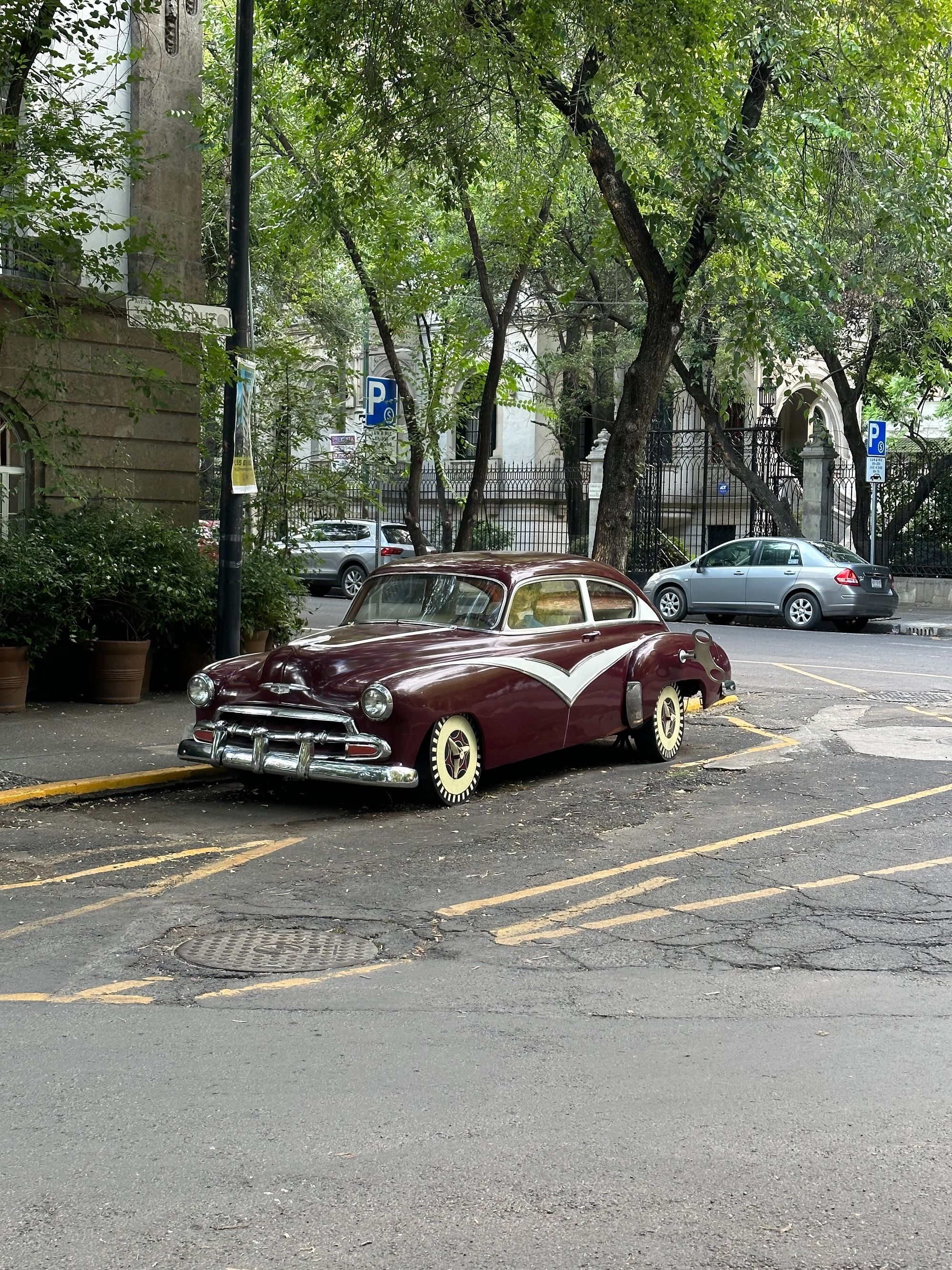 I don't know the story behind it, but it has a giant wind-up key on the back, and dummy in the driver seat, and wheels that look like they are made of plastic. It's all reminding me of a giant child's toy from the 1930's.  But if you look at the trees, you get a sense of the streets in Condesa.  So many of them are tree lined, so many beautiful vistas.
When I got home, I made dinner out of the groceries I bought. I can't believe how long my meals have lasted.  I got like 3 meals out of one bag of beans, and the shredded beef is still going strong.  I added the Oaxaca cheese, which is a giant ball of string cheese (tastes just like it)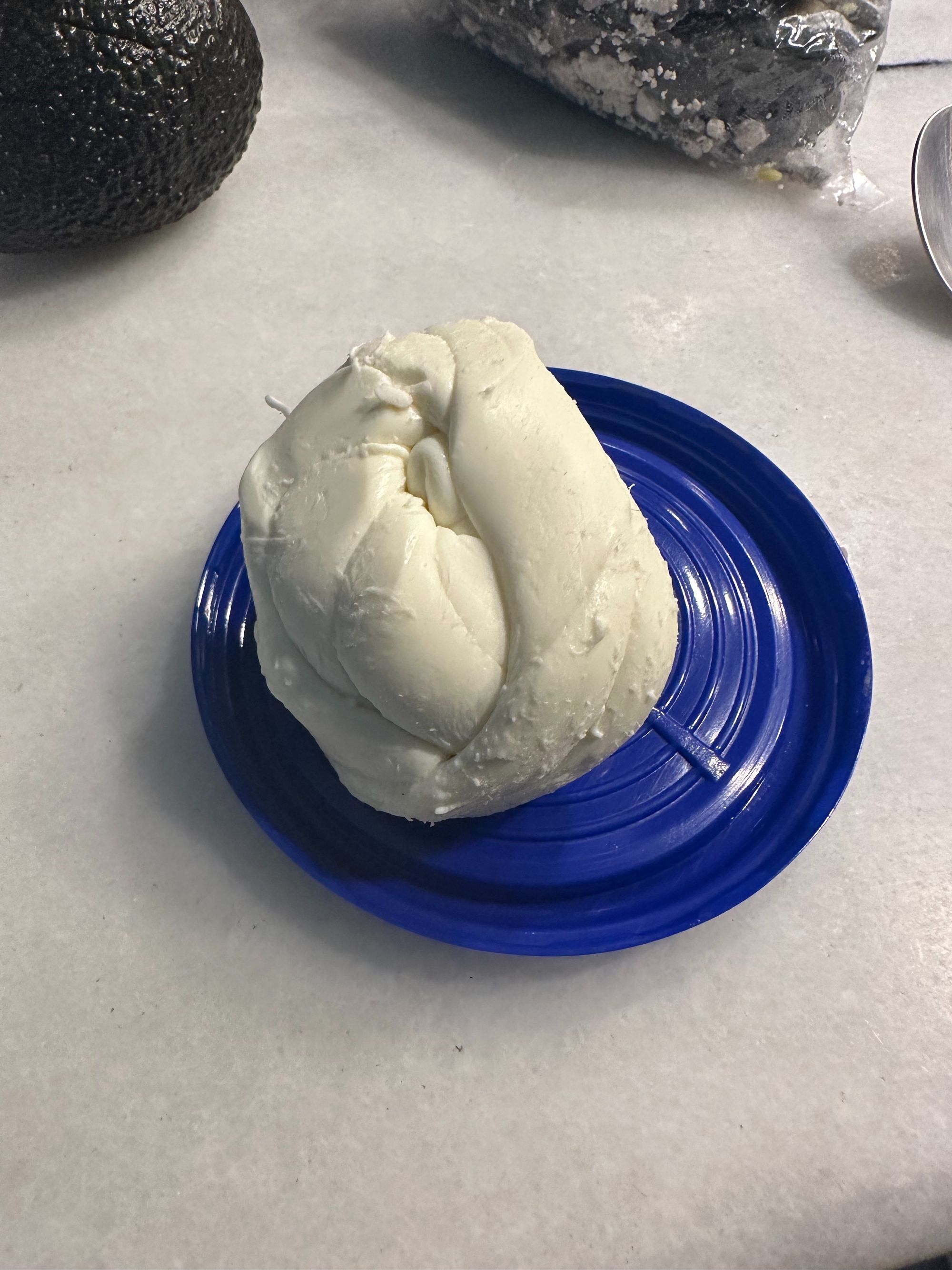 Granted, it looks a bit weird, like some kind of doughy flower, but it's really just a big ball of string cheese rolled up into a ball instead of cut into individually wrapped slices.
My recipe is stupid simple - throw the beef, beans, and cheese into a nonstick pot. Heat it up, then dump it on a plate and pour on Salsa.  The La Costeã Salsa is the bomb.  It's full of thick chunks of tomato and (for my tastes) it is spicy as hell.  Of course, I'm sure the locals don't think so, but it really gives my gringo burritos a kick.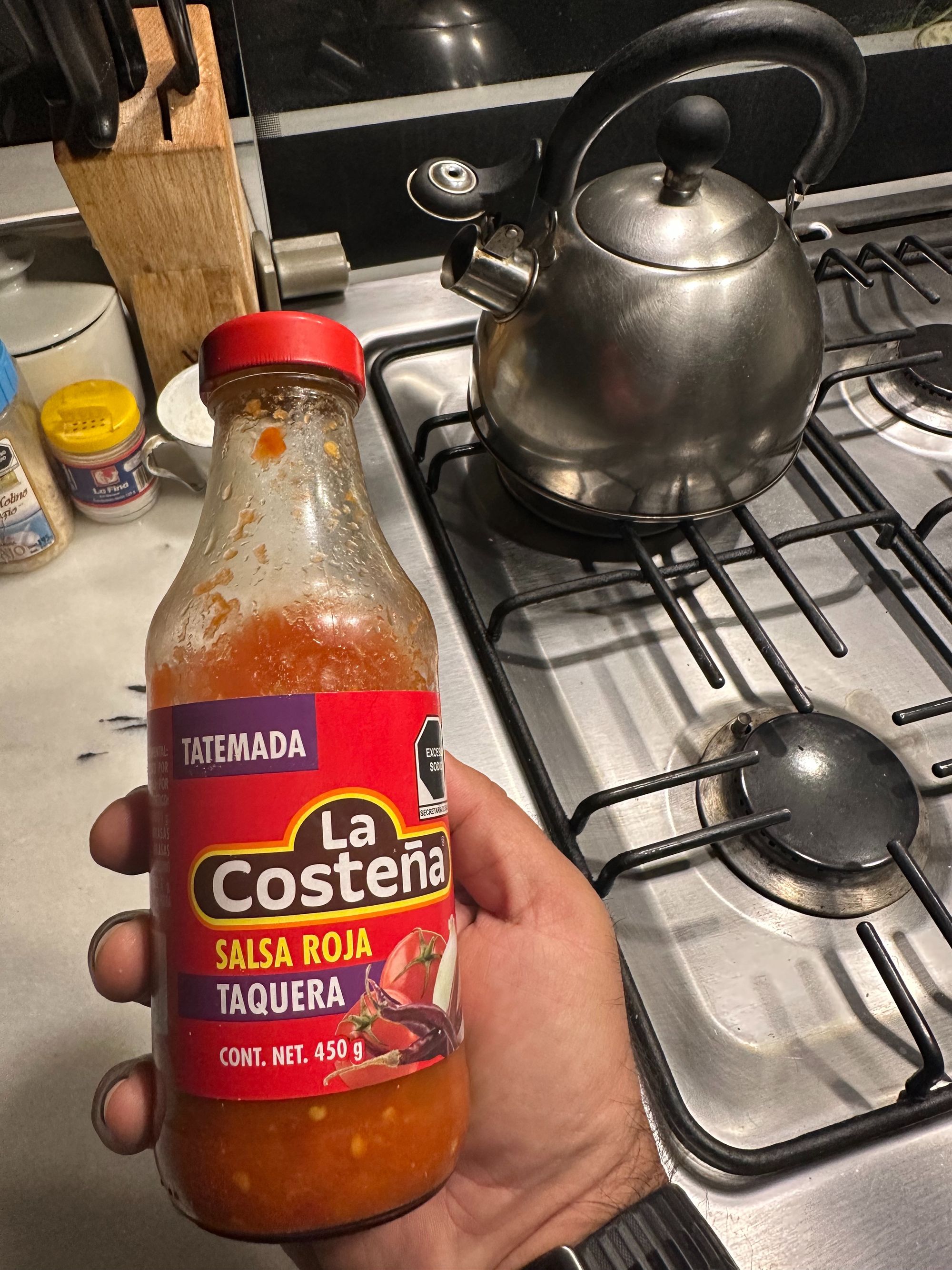 I have so far resisted the urge to by any kind of candy or chips. I'm eating extremely basic foods, but they are filling.  I'm sure if I had 1/10th of Stacy's mad skills as a cook, I would be eating like a king, but I'm happy with how much I've saved. It is cheap to eat out - if you stick to the taco stands (the puestos) but now that I'm starting to add it up I'm doing a lot better eating at home.
Now... back to watching La Leyenda de La Nahuatl on Netflix and praying I can figure out what they are saying...